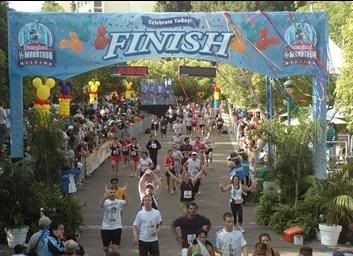 Yes, long-time readers, I have used "Is it safe" as a title in reference to
Marathon Man
before. But that time, it was "Is it Safe? Is it Safe?" I only said it once this time because I ran a
half
marathon. Get it? Get it!?! Maybe this is why no one's paying me to write right now. Also, that post was about the dentist, this one's not. Anyway, if I'm going to keep writing about marathons, I obviously need to come up with another pop culture reference from which to cull titles.
So, all of this is to say that two weekends ago I ran the Disneyland Half Marathon. I had run the 5k last year and decided to step up my training to go for the whole 13.1 miles this time around. I gradually built up my strength over the past year, and by race time it was mostly a piece of cake. I ran with my good buddy
Mike
, and we finished with a time of 2:22 (that's two hours, twenty-two minutes). Very respectful for a first time, I think. We could have gone faster, but since we didn't have qualifying times, the first 3-5 miles or so were spent weaving around people who think walking a half marathon is the same thing as running one. I don't know if this is an issue in other races, but it's kind of a problem at Disney. I think a lot of people just assume that because it's Disney it will somehow be easier. Whatever, we won't have that problem next year, our time should be plenty good enough to qualify us for an earlier starting corral.
Now, in the course of my training, I've lost A LOT of weight (I don't ever weigh myself, but I'd estimate it's in the 35-50 pound range). I've lost 4 inches off of my waist. Now, I know this sounds like bragging, but being thin and sexy's not all it's cracked up to be. I mean, none of my clothes fit right anymore. My pants literally fall off if I don't have my belt tightened to the last hole, and half of my belts aren't short enough anymore. The jeans I used to call my "sexy jeans" (they were tighter than the others) are now just the jeans that fit better than most. My dress shirts that used to fit like they were tailored no feel like I'm wearing a pillowcase. It costs a lot of money to replace a whole wardrobe, people. Think of that before you start that next diet.
Mike and I were very proud of the fact that we didn't slow down to walk a single time during the race. Neither of us had ever done that for longer than 10 miles before, so it was a pretty big deal (it's all in the pacing). Of course, at about mile 12.5 (in other words, almost to the finish line) I could feel all of the Powerade sloshing around in my stomach and it made me nauseous. Nauseous to the point where I actually threw up in some bushes. It was pure Powerade that came back up, leading me to think that I'd taken in too many electrolytes (an energy gel and several cups of the stuff). Maybe next time I'll stick to just water. To my credit, I didn't miss a step. I did my disgusting business as calmly and discretely as I could, never breaking stride. It's a silly thing to be proud of, but there it is.
Here's a handful of pictures (sorry for the low quality, these are the digital proofs. The actual prints are insanely expensive). Unfortunately, there was no lucky photographer to catch my yakking. Properly timed, it could have been a spectacular shot. I would have it blown up to a poster and made into a Successories-style motivational poster. By the way, in the picture at the head of the article, I'm the guy with his arms raised above his head, next to Mike, who is clapping. That's my go-to "finished running" pose.
Running into California Adventure. I like how it almost looks like I'm hovering.
Mike and I liked mugging for the camera.
I always knew I was pasty, but DAMN! Also, I look 20 years older in this picture and like I am about to die. Even when throwing up, I never felt as bad as I looked in this shot.
Running around the field at Angel Stadium. A very cool experience (there were thousands of Girl and Boy Scouts cheering you on inside) and my favorite picture of the bunch.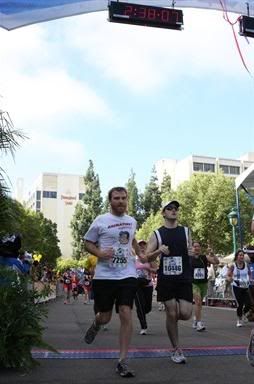 Crossing the finish line. Note that while the clock shows 2:38, our corral didn't cross the start until 16 minutes after the gun went off (that's what happens when you have 15,000 people trying to run down one street), so our electronic chip time was 2:22.
With our medals at the end.
It was a great experience. Mike and I are officially hooked on running. He's already signed up for the full LA Marathon in March, and I'll be signing up as soon as I've got $125 (I'm about to be out of work, doncha know?). I don't just feel physically great, it's a big emotional accomplishment, as well. I set a goal, and I reached it. Feels pretty good.
Cheers,
Eli